Topographic / Land Survey
Topographic / Land Survey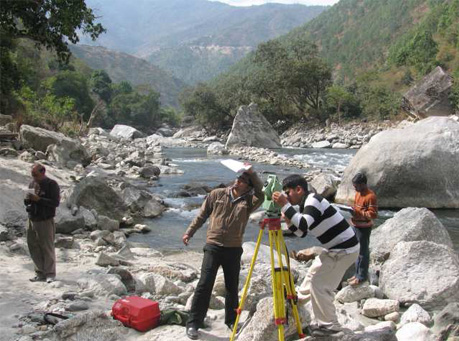 Topographic Map is an indispensable tool for Government, Semi-Government, Public Sector, Corporate, Limited organizations, consultants and contractors. Topographic Survey is of utmost importance for Civil Engineers and plays vital role in all urban development projects, railway, highway, dam, bridge, building, irrigation, canal, tunnel, hydel and thermal projects. Basic requirement to start any civil project is an accurate topographic map, which can depict the true terrain conditions and can assist civil engineers in taking important decisions about the site suitability and design plan and construct the project.
Topographic Survey determines the relative locations of points (places) on the earth's surface by measuring horizontal distances, differences in elevation and directions and produce topographic maps giving the locations of places. Topographic surveying in geography is used for producing topographic maps, constructing topographic (crosssectional) profiles and establishing vertical and horizontal control for accurately defining locations.
Advancement in survey techniques, instrumentation, design and printing technologies, the use of aerial photography and satellite data, has dramatically improved accuracy and efficiency of Surveying & Mapping field. The computer is extending mapping beyond its traditional limits and digital data recording has made it possible for SURVEYORS to display maps on a computer. Topographic Map with contour lines display the shape and elevation of the threedimensional undulating terrain in a two-dimensional surface They also show rivers, land use, vegetation, forestation, rivers, hills, valleys, roads, buildings, transmission lines, poles etc.
The amount of detail shown on a map is proportionate to the scale of the map: the larger the map scale, the more detail shown. Technology has reduced the requirement for mapping work in the field. We at ORIZON, use most advanced state-of-the-art instruments for making measurements, recording the data and plotting the digital recorded data instantaneously using Computers. Days of plane table surveying when the surveyors used to prepare the map by hand, no longer exists. However, the field survey still plays an important role in making and revising topographic maps.
ORIZON is fully equipped with experienced and committed personnel and most advanced equipment like DGPS, total stations, digital levels, auto levels, and softwares, for undertaking any type of topographic survey like plane survey, geodetic survey, alignment survey, detailed survey, contour survey, crosssectional survey
Applications:
Highways
Railways
Bridges
Urban Planning
Hydro Power Projects
Thermal Power Projects
Wind & Solar Projects
Land Records & Revenue Maps
Building Construction
River & Drainage Surveys